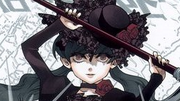 Chitose Mitogawa (三途川千歳)
The mysterious principal of Tokofushi Middle School. Nothing so far is known about her past, other then the fact that she was Hades-sensei teacher when he was in middle school, and she hasn't aged since then.
Ad blocker interference detected!
Wikia is a free-to-use site that makes money from advertising. We have a modified experience for viewers using ad blockers

Wikia is not accessible if you've made further modifications. Remove the custom ad blocker rule(s) and the page will load as expected.