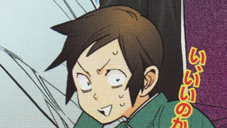 Iku Ashitaba (アシタバ) is a second-year middleschool student, in the same class as Fuji, Mimisaka, Motoyoshi, and Yasuda.
Character
---
Ashitaba is generally the one telling the story each chapter, except for the fewer chapters when it centers on another person. He's quiet and slightly shy, but gets along with many people.
It's hinted throughout the story that Ashitaba is quite good at ping-pong as he entered the ping-pong ball relay during the sports meet and won.
Ad blocker interference detected!
Wikia is a free-to-use site that makes money from advertising. We have a modified experience for viewers using ad blockers

Wikia is not accessible if you've made further modifications. Remove the custom ad blocker rule(s) and the page will load as expected.